Fractionated CO2 laser resurfacing for deep skin rejuvenation
Medical literature supports that the CO2 laser is the most powerful and effective tool for resurfacing and deep rejuvenation of the skin..
Replace your damaged and aged skin with fresh new skin!
Ready for breathtaking results!!!
The above is before and after photos of one of our patients after having fractional CO2 laser resurfacing performed. Additional treatment to improve the wrinkles around the eyes is still pending!
Stay tuned for final incredible results!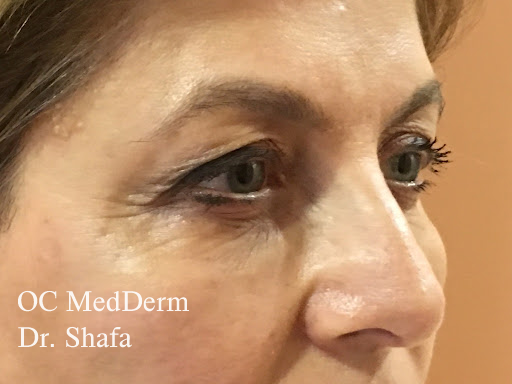 The above photo shows before and after of CO2 laser resurfacing to correct wrinkles around the eyes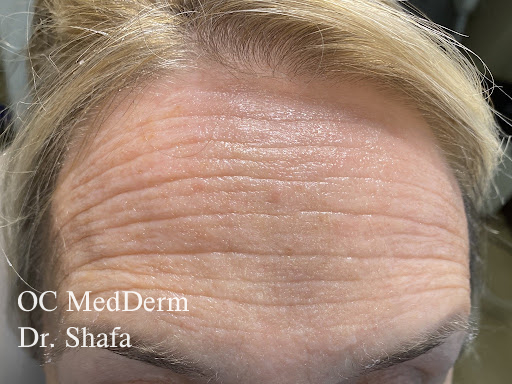 The above photo shows before and after of a single treatment with CO2 laser resurfacing to correct wrinkles of forehead
Fractional CO2 laser resurfacing
Hearing about so many various laser options can be overwhelming as a patient. Come see our dermatologists at OC MedDerm where they will discuss the pros and cons of the various laser options that are best for your specific skin and treatment goals. Here are a few lasers among many others used here in the United States: SmartXide, ProFractional, Smart skin, Silklase, Zenpro, Pixel CO2, Deep Fx, Ultrapulse, Fraxel, Affirm CO2, Ultherapy, Thermage and so many more.
What are the benefits of CO2 laser resurfacing?
The CO2 laser has become more and more popular as newer indications continue to come out in literature for its use. It is known to be capable of dramatically reducing common signs of aging and correction of acne scars by creating the following changes in the skin:
Gives glow to the skin by improving skin texture and tone
Drastically reduces fine skin wrinkles by increasing collagen formation
Reduces the appearance of large pores
Removes sun-damaged skin and skin blemishes
Removes skin discoloration
Improves scars, including acne scars
Reduces the appearance of stretch marks
Tightens the skin when deeper treatment is performed
Contact us!
If you want results and need an effective, intense skin resurfacing treatment, or you suffer from severe acne scars, you might be a good candidate for fractionated CO2 laser to be performed by our expert dermatologists.
The CO2 laser is one of the most powerful and effective treatments, but with the fractionated features, we are able to minimize the risk of complications that were associated with the "full field" CO2 lasers, widely used in the past. At OC MedDerm, we ensure you are educated about your treatment options and tailor a plan that's right for you!
Please feel free to ask questions or call to make an appointment to meet one of our dermatologists and receive a non-obligatory complimentary evaluation of your skin and to be educated extensively about your treatment options.